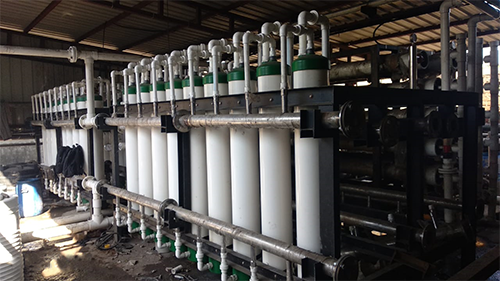 In Ahmedabad, Gujarat, Shree Aditya is a manufacturer of ultra filtration equipment. Numerous customers who have received our ultra filtration water treatment services attest to the excellence of our offering. We guarantee that the water ultra filtration plant we provide produces at its highest potential and with the greatest efficiency.
Ultra Filtration Plants, as their name implies, are always regarded as a special aspect of water filtration. The best possible filtration from the many kinds of microorganisms that are typically present in water is ensured by this ultra filtration apparatus, making the water safe and pure for use.
Ultra filtration is a relatively low-pressure procedure that runs at or close to atmospheric pressure. To remove suspended particles, bacteria, viruses, and other pollutants from water, it is frequently employed in industrial and municipal water treatment applications. Reverse osmosis, a more sophisticated method of water treatment that eliminates dissolved pollutants, can also be pretreated with ultra filtration.
A type of water treatment system known as an ultra filtration plant use a membrane to remove high molecular weight materials, suspended particles, and colloids from water. The membrane's pores are not big enough to let larger particles and impurities pass through, yet they are just big enough to let water molecules pass through.
Characteristics of an ultra filtration plant:
Superior calibre
Water purification method that works
Available in completely automatic and semi-automatic working modes
Reduce the water's chlorine content.
They filter water with the least amount of water loss possible.
These UF plants are available from us in a variety of capacities, and you can choose one easily based on your needs.
Ultra filtration facilities typically consist of a number of filtration modules that house the ultra filtration membranes. Pumped water passes through the membranes, collecting clean water on the opposite side. Usually, the system's concentrated pollutants are eliminated through routine membrane cleaning or backwashing.
It is generally successful and efficient and can produce high-quality water for a range of uses. The efficient operations, exacting design, and top-notch customer service enable each of our Ultra filtration units to produce products of high quality. The best raw materials are used to create our ultra filtration plant, which is then provided and exported to countries throughout the world after passing a rigorous quality inspection.
Read More